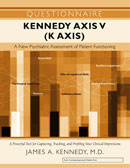 The Next Step for DSM-IV's Axis V Could Be this Comprehensive, Multidimensional Global Assessment of Functioning!
The Kennedy Axis V Captures the "Universal Functional Domains" in Psychiatry, as well as Calculates a GAF!
Click Here to Have a Free Copy of the Kennedy Axis V Questionnaire Emailed to You
K Axis, Your Best Instrument for Global Measures of Functioning
The Kennedy Axis V (K Axis) is a multidimensional measure of patient functioning that can solve many of the limitations of DSM-IV's Axis V. The K Axis is head and shoulders above any global measurement of a client functioning because of it's ability to quickly generate 10 global measures of functioning in areas that are the heart of clinical psychiatry:

1) Psychological Impairment
2) Social Skills
3) Violence
4) ADL-Occupational Impairment
5) Substance Abuse
6) Medical Impairment
7) Ancillary Impairment (Legal, Financial, Mileau)
8) GAF (GAF K)
9) GAF Equivalent (Global Functioning Score)
10)Dangerousness Level (Global Dangerousness Score)

These global scores can greatly facilitate communication and information management.

INSTANTLY UNDERSTAND/CONVEY THE LEVEL OF IMPAIRMENT

Because these global scores follow DSM-IV's Axis V's scoring continuum, most clinicians when informed of one of these global scores will instantly know the severity of the client's impairment in that area. This allows for quick and effective communication among clinicians about a patient's status in critical areas. This also allows for easy communication with administrators, as well as individuals authorizing reimbursement for services provided. This ultimately leads to better patient care and more effective and efficient reimbursement for that care.

PSYCHIATRIC TREATMENT PLANNING

Having an instrument that can be used to organize information needed for treatment planning, in addition to tracking the outcome of treatment, is another important factor that should be considered when selecting global instruments for clinical use. The ability of the K Axis to organize clinical information for treatment planning is demonstrated in FUNDAMENTALS OF PSYCHIATRIC TREATMENT PLANNING, SECOND EDITION. For more details click on "Tx Plan Problem List" on the Navigational Bar to your left.
---
GENERATE AN AXIS V (GAF) USING THE K AXIS

The K Axis can also generate a GAF rating almost instantly by simply selecting the lowest K Axis score in the first four domains.

It can be argued that this is a more accurate/reliable method to determine the GAF because you have more anchor points to rely on for the rating and you are not overlooking any of the four major factors that the GAF is addressing (Psychological Impairment, Social Skills, Violence, and ADL-Occupational Skills).

You can use the advantages of the K Axis while maintaining the GAF option. Of course, clinicians are free to calculate the GAF in any manner they wish; however, using the K Axis may be a very helpful approach to calculating the GAF.

We are proposing the Kennedy Axis V (K Axis) as the replacement for Axis V in the DSM-V (tentatively due out in 2011).

ROYALTY CHARGES

A royalty is charged for the use of the K Axis; however, the royalty is waved , if the K Axis is being used for educational, research, training, and/or piloting purposes. Once you are comfortable with the K Axis and want to integrate it into your routine clinical care, you must register with the author (James Kennedy, MD) to be licensed to use the K Axis. To register and/or get a free copy of the Kennedy Axis V for you review, click on Requests/Questions on the Navigational Bar to your left.